When it comes to school website design, we offer true industry experience having dedicated part of our team to this space over the last few years which has seen us work with Education NZ (Ministry of Education), various local bodies and a wide range of schools and institutions. We're known in the education industry for designing beautiful and functional school websites that create engaging user experiences for domestic and international visitors, while remaining easy to update for administrators.
SEE WHAT'S INCLUDED IN OUR SCHOOL WEB PACKAGES
Key Package Inclusions
Powerful, flexible and scalable framework.
Modern, engaging and mobile friendly website design.
Full content management system.
Integrations with other platforms.
Safe, secure and fast loading.
Search engine friendly.
Online forms, upcoming events & news.
International audience targeting.
Content population & system training.
School Website Reviews
We completed a contract with Education New Zealand (Ministry of Education) where we were planned and implemented a nationwide school website review programme. Upon completion we had reviewed upwards of 150 websites made up of schools (from primary through to high school, both public and private) as well as private and tertiary institutions.
We've also had the pleasure of continuing to work with a number of these schools post-programme to help improve their online presence. We know what schools need and we can deliver clever solutions, whether we are integrating seamlessly with third parties, enabling the management of ticket sales for school events or even feeding content out to the school mobile app. We deliver.
SEE WHAT'S INCLUDED IN OUR WEBSITE REVIEW PACKAGE
Key Review Inclusions
Visual design analysis.
Site architecture and usability.
Compatibility and accessibility.
Technical and security testing.
Search engine ranking & optimisation analysis.
Social media presence analysis.
Landing page samples and conversion tips.
Modern web design trends to focus on in 2018.
SEO (search engine optimisation) strategy outline template.
We look at the quality, experience, content and marketing of your website.
Post-review session to deliver the final product and discuss key findings.
Provision of the final product to the client (PDF report).
Check out some of our recent web design work
See the improved school website design by moving the green slider from right to left.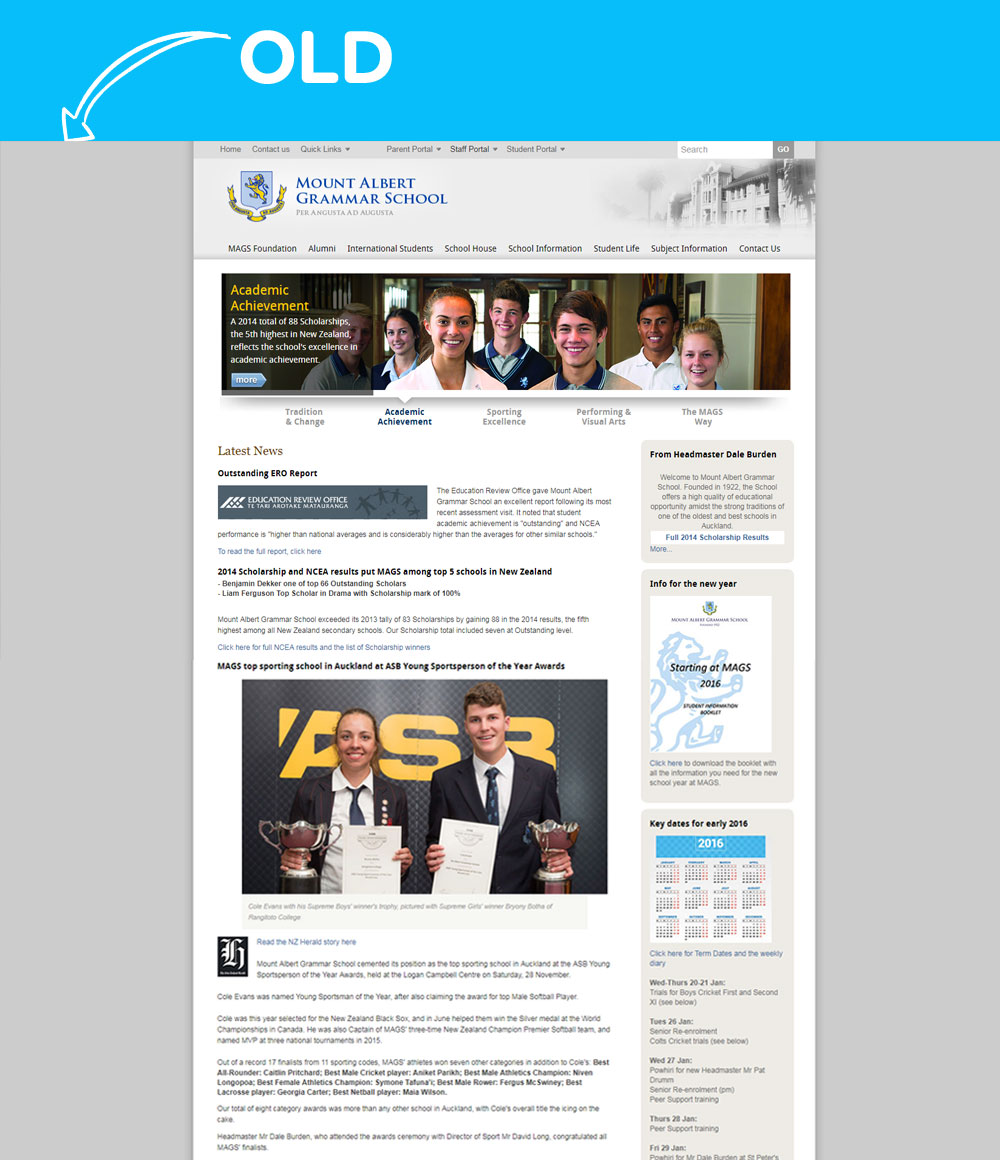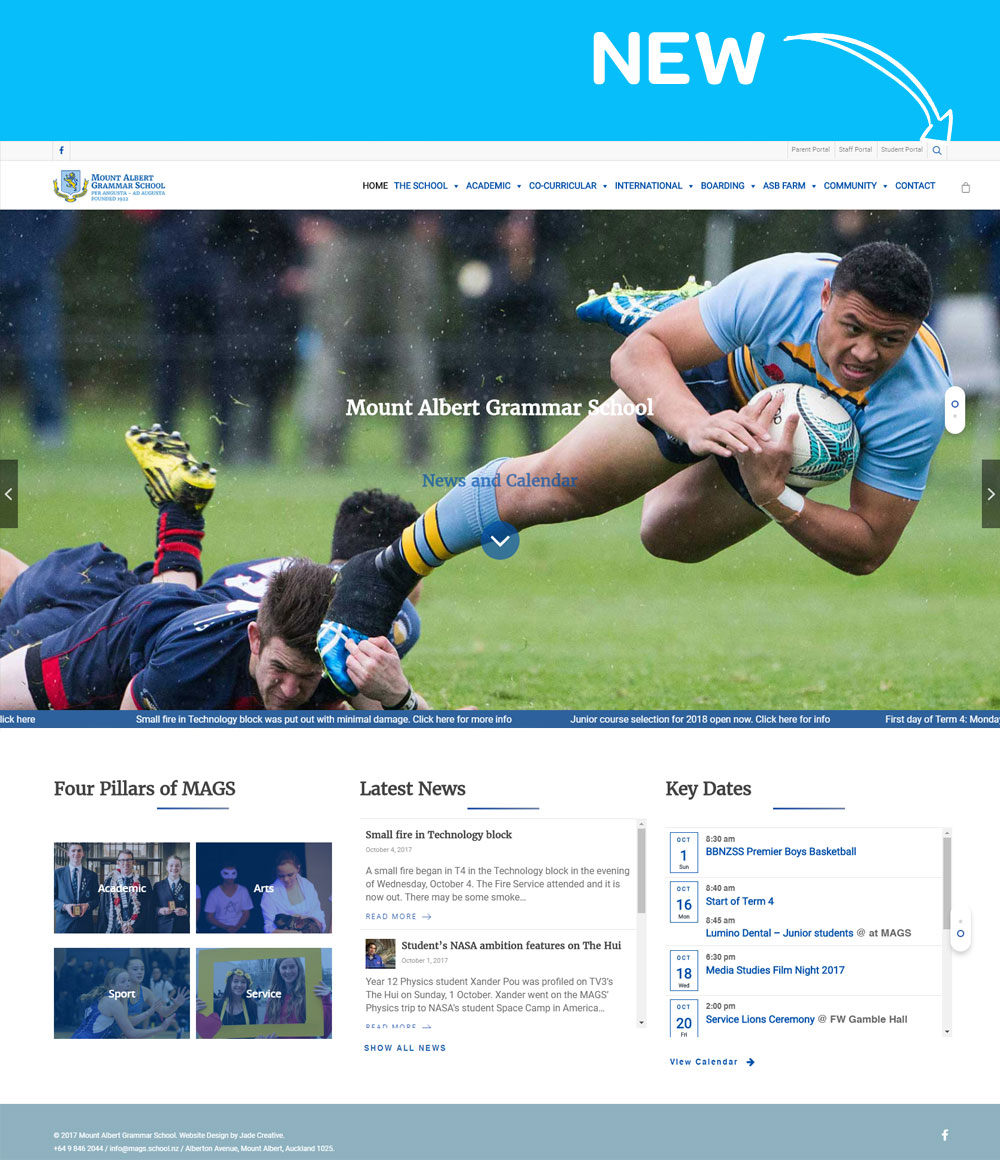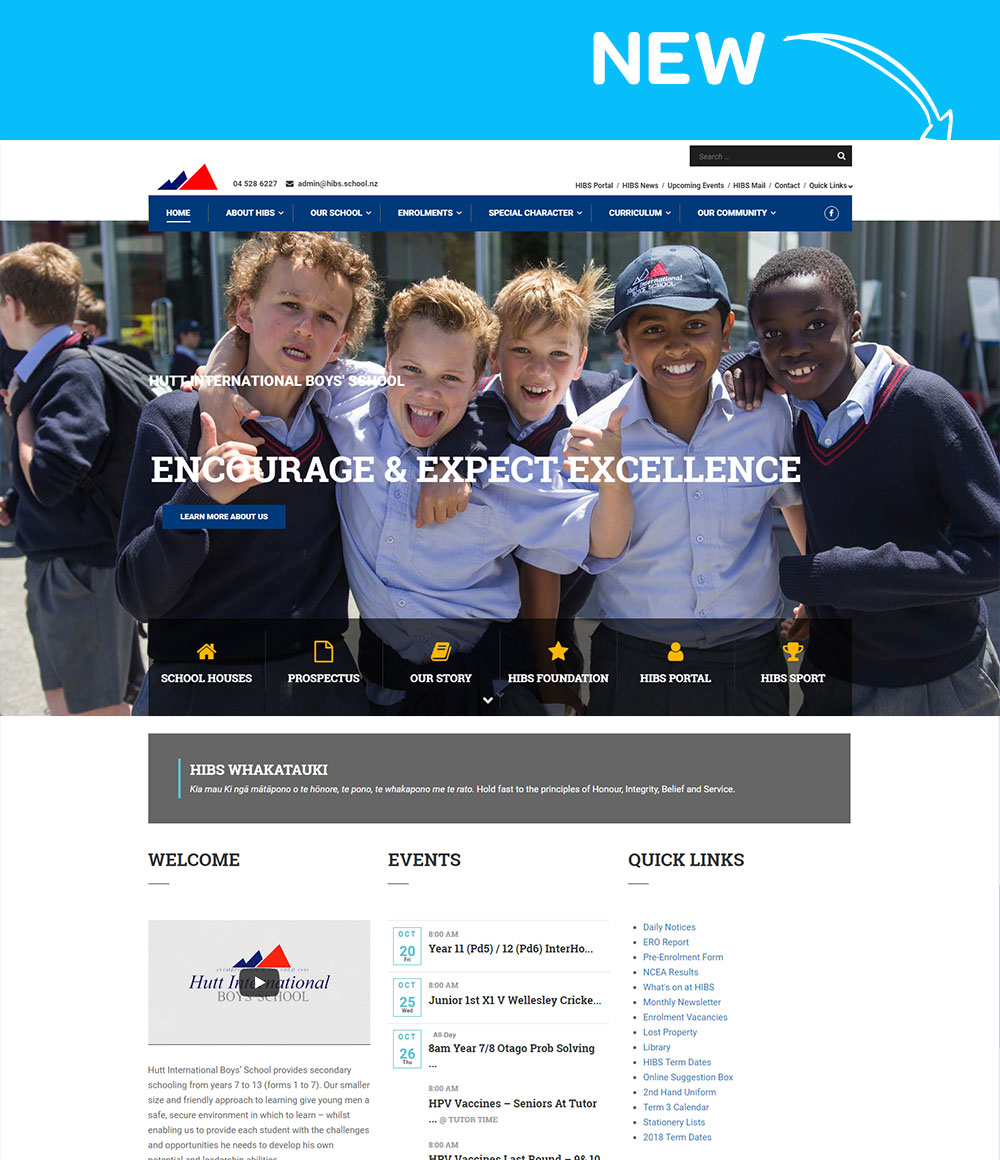 Helping to innovate the industry
We feel privileged to be trusted by and work with the below brands & organisations.




Mount Albert Grammar School
Shirley Boys' High School
Seafield School of English





Hutt International Boys' School


Relationships matter to us
We are proud of our market position, our web capabilities and our school website design service. But don't just take our word for it, read what our clients think of us!
We are a digital team trusted by small businesses, large organisations and Government departments. We do what we say, when we say it and for how much we said we would. We have true expertise at our fingertips enabling us to deliver an exemplary digital service to our clients.
CONTACT US ABOUT HOW WE CAN HELP YOUR SCHOOL
Get in touch to find out about our school packages
We'd love to hear from you. Complete the form, drop us an email or give us a call +64 3 3848352