When it comes to school website design, we offer true industry experience having dedicated part of our team to this space over the last few years which has seen us work with Education NZ (Ministry of Education), various local bodies and a wide range of schools and institutions. We're known in the education industry for designing beautiful and functional school websites that create engaging user experiences for domestic and international visitors, while remaining easy to update for administrators.
SEE WHAT'S INCLUDED IN OUR SCHOOL WEB PACKAGES
Key Package Inclusions
$

99

Per Month
Powerful, flexible and scalable framework.
Modern, engaging and mobile friendly website design.
Full content management system.
Integrations with other platforms.
Safe, secure and fast loading.
Search engine friendly.
Online forms, upcoming events & news.
International audience targeting.
Content population & system training.
School Website Reviews
We completed a contract with Education New Zealand (Ministry of Education) where we were planned and implemented a nationwide school website review programme. Upon completion we had reviewed upwards of 150 websites made up of schools (from primary through to high school, both public and private) as well as private and tertiary institutions.
We've also had the pleasure of continuing to work with a number of these schools post-programme to help improve their online presence. We know what schools need and we can deliver clever solutions, whether we are integrating seamlessly with third parties, enabling the management of ticket sales for school events or even feeding content out to the school mobile app. We deliver.
SEE WHAT'S INCLUDED IN OUR WEBSITE REVIEW PACKAGE
Key Review Inclusions
$

99

Per Month
Visual design analysis.
Site architecture and usability.
Compatibility and accessibility.
Technical and security testing.
Search engine ranking & optimisation analysis.
Social media presence analysis.
Landing page samples and conversion tips.
Modern web design trends to focus on in 2018.
SEO (search engine optimisation) strategy outline template.
We look at the quality, experience, content and marketing of your website.
Post-review session to deliver the final product and discuss key findings.
Provision of the final product to the client (PDF report).
Check out some of our recent web design work
See the improved school website design by moving the green slider from right to left.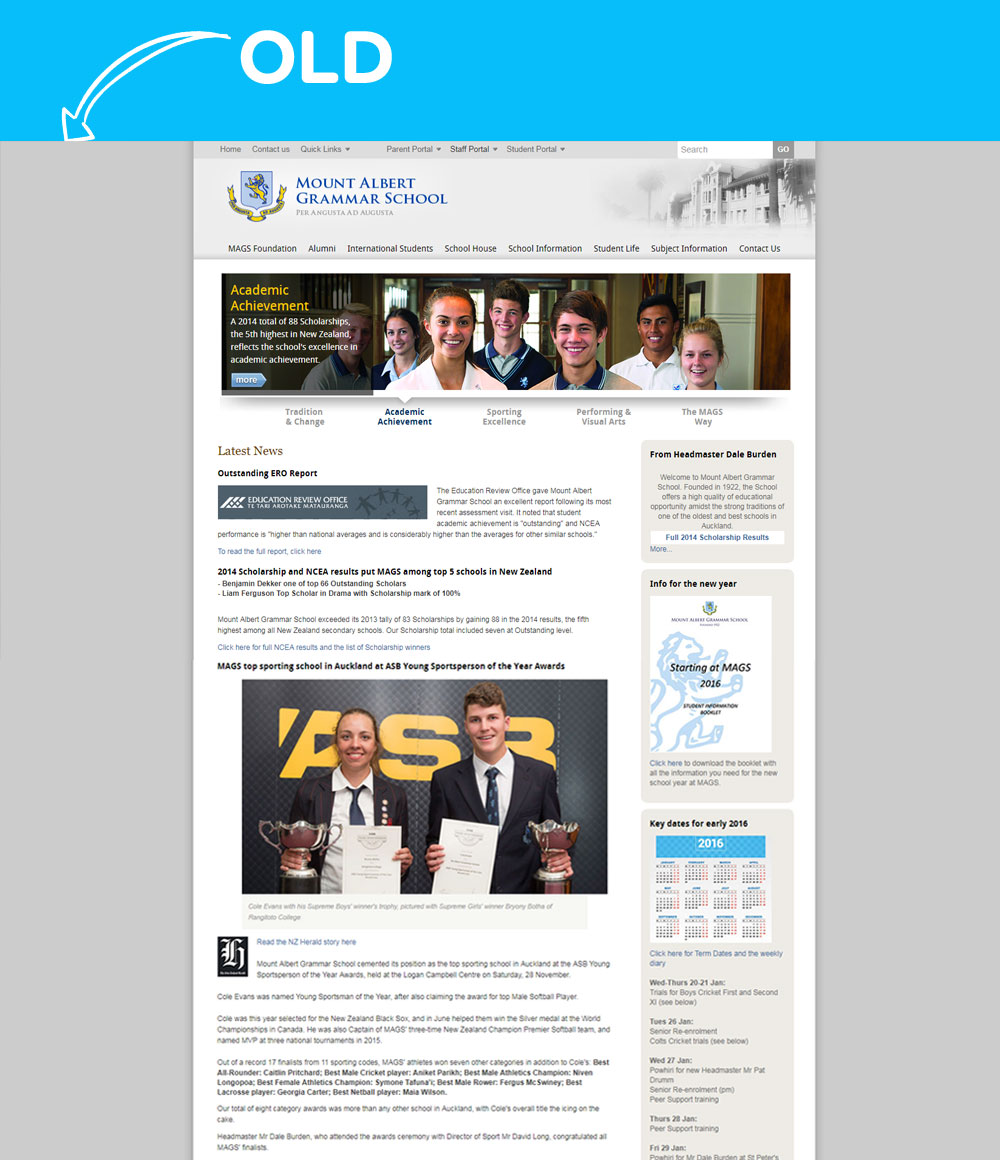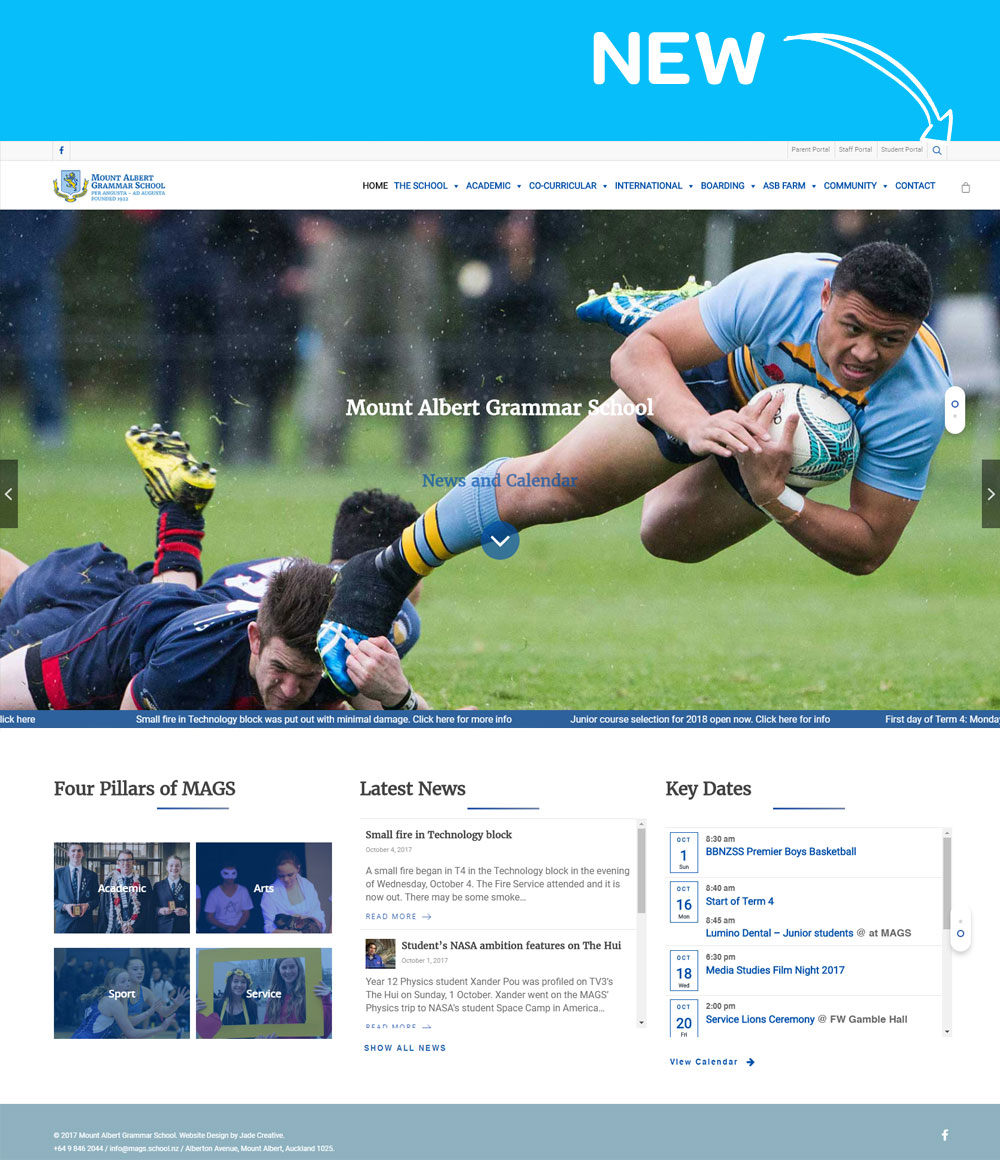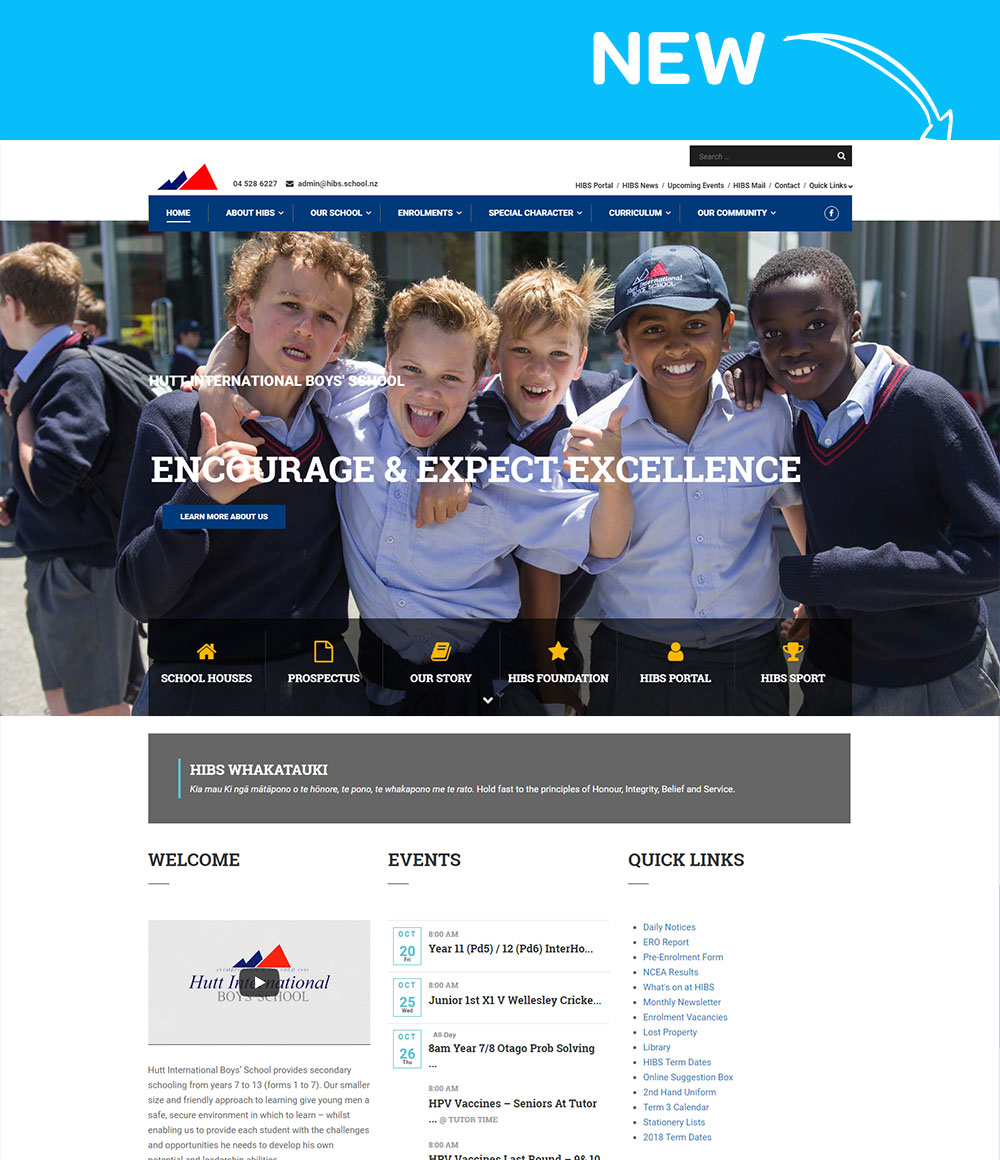 Helping to innovate the industry
We feel privileged to be trusted by and work with the below brands & organisations.




Mount Albert Grammar School
Shirley Boys' High School
Seafield School of English





Hutt International Boys' School


Relationships matter to us
We are proud of our market position, our web capabilities and our school website design service. But don't just take our word for it, read what our clients think of us!
Owairoa Primary School has been proud to partner with Jade Creative on our recent website rebranding project. From the initial concept and design, right through to website execution, Patrick and his team have offered superb professionalism and service provision, which we highly recommend. The ongoing technical support and guidance has been outstanding, providing us with great reassurance going forward. We receive positive comments regarding our site on a daily basis, which is a credit to Jade Creative's ability to bring Owairoa Primary Schools online platform to life.

Owairoa Primary
22:24 15 Dec 21
Everything you need, nothing you don't. Great at what they do and always good to work with, the best web development people I've worked with. Keep up the awesome work Patrick and the team!

Hamish Howard
22:46 02 Dec 21
A huge thank you to Patrick and the team at Jade Creative for helping us recreate our new Motus Health website. I wouldn't hesitate to recommend them for their professionalism and ease to work with.

Elise Murdoch
00:55 02 Dec 21
Working with Jade Creative to recreate our school website was a great experience. The help provided to get it looking how we want and to keep it updated was and continues to be excellent. Now having people commenting positively on our website is a joy.

Ngaio Principal
22:29 01 Dec 21
Always do a great job. Supportive and patient when explaining processes. Really easy to work with, would definitely recommend.

Wendy Shave
22:17 01 Dec 21
Jade Creative re-created and re-branded the Ormiston Primary website, updating it to meet the needs of our rapidly growing school. The team were fabulous having to work from scratch after our old website "disappeared"! Great vision and patient with necessary changes, as well as responsive to a short time frame. Highly recommended!

Cassandra Everts
01:19 14 Jul 20
The Jade Creative team helped us re-brand and re-fresh our website. Their ideas and their content suggestions were 'bang-on' every time. I thoroughly recommend them!

Rhys Chesterman
02:59 15 Jun 20
The team and Jade Creative have gone above and beyond with both their service and quality. They were responsible to producing our outstanding website over a truly hectic time in 2019, and as we were just starting to utilize the site in 2020 we had Covid-19 affect us. We rapidly had to transition our site to be one that was able to match the change in demand and requirements of our customers, and Jade Creative delivered. No task was an issue, and with clear and concise communication, we knew that what was being done was not only achievable, but when it would be achieved. They are a key reason our business has not only survived but thrived through change. 10/10 would use again.

Nick Buist
02:02 15 Jun 20
Jade Creative has been a pleasure to work with on the recent website refresh for Wellesley College, an Independent School for Boys in Years 1-8 in Wellington. Brendan Pitman, Principal at Wellesley College says: "Jade Creative were consummate professionals in creating our website with nothing being too much of an ask! The friendly, customer orientated service was exceptional". From the very beginning, the project has been a collaboration between us, Patrick and his team. They have understood our Marketing requirements and have listened to our suggestions. They have provided us with solutions and support every step of the way. The team has also been incredibly responsive during the testing and launch phases, and always deliver on what they say they will deliver. They have provided us with invaluable training, and knowing that we can access this remotely has also provided huge comfort. We highly recommend working with Patrick and the Team at Jade.

Sylvie Gould
00:18 13 May 19
We've had the pleasure of working with Jade Creative for many years now and can thoroughly recommend them. Whilst our needs are reasonably straightforward they have always given us options for website design and kept us in touch with important developments in the digital world that might affect us and/or be beneficial to us. Also, in times of 'digital crisis' they have responded quickly and professionally for which we've been extremely grateful. We certainly consider it to be a 5 star service.

Martin Riley
22:42 16 Sep 18
Jade Creative created our business's website and did a fantastic job. Support after the fact has been excellent as well. A great company to deal with.

I have worked with Jade Creative over the past five years on our website and an APP development and they have always provided excellent service and been fantastic to work with. From concept stage Patrick just seems to 'get it', and is a real pleasure to work with through the development to delivery stage. They are always easily contactable, and update their clients regularly on how the project is going - I would highly recommend Jade Creative.

Karen Haigh
02:57 07 Feb 18
It is no surprise to see such high levels of praise in previous reviews for a company that can't be described as anything less than exemplary in their services. JADE were the previous builders of a tertiary institution we acquired and relocated from Chch to Auckland a few years back. Despite having other web partners, we have been so impressed with the level of guidance, attention to detail, and extremely quick turnover we have been not only optimising the current site and SEO but also building new and transitioning other existing sites into their hands. The geographical distance between has made no difference to us, and we find much quicker responses and optimal pricing than from other much more local providers. A huge thanks as always to Patrick and the team at JADE!

Chloe Wilkinson
22:58 25 Jan 18
Over the years Jade Creative has worked on two web sites for us. Both of these businesses have benefited from Jades design and passion for developing web-sites that work for the client!We recommend Jade to anyone that wants a flexible, creative and passionate company to help develop their business.

Malcolm Anderson
01:45 22 Jan 18
We've had Jade Creative work on multiple web projects over recent years and LOVE working with the team. We have achieved exactly what we are looking for with our web solutions each time and they have always fulfilled our needs. I admire attention to detail and have always had a long request list to satisfy my desires of perfection. Pat and the team always deliver above our expectations and are a real pleasure to deal with. Thanks again Jade Creative!!

Katherine Williams
06:04 15 Jan 18
Villa Maria College have been utilising the services of Jade Creative for 5 years to manage its website. We have been very happy with the service provided and the functionality of our College website. We would be happy to recommend Jade Creative to prospective clients.

Judi Wilson
00:29 19 Dec 17
Jade Creative have provided excellent service. Fantastic creative web design through to prompt technical support. A pleasure to work with.

Kate Payne
02:07 16 Oct 17
Jade Creative successfully tendered to build a new website for Mount Albert Grammar School, New Zealand's second largest high school. Their service, from concept to completion and in their ongoing maintenance, upgrades and fixes, has been superb. They've offered creative ideas, practical solutions, adhered to timelines and been great value for money, while being unfailingly patient and a pleasure to work with. I highly recommend them.

Estelle Sarney
01:50 16 Oct 17
Professional, efficient and prompt. The team at Jade Creative have been an absolute pleasure to work with. Having had poor service from other companies, we've been extremely impressed with this company; they listen to their customers and communicate effectively ... two key traits that make doing business with Jade Creative stress-free!

Billy Merchant
05:50 15 Oct 17
Jade Creative provided us with stellar customer service and the best web design. Great work!

Iman Bahrani
02:09 13 Oct 17
We are a digital team trusted by small businesses, large organisations and Government departments. We do what we say, when we say it and for how much we said we would. We have true expertise at our fingertips enabling us to deliver an exemplary digital service to our clients.
CONTACT US ABOUT HOW WE CAN HELP YOUR SCHOOL
Get in touch to find out about our school packages
We'd love to hear from you. Complete the form, drop us an email or give us a call +64 3 3848352